Expertise
In 2019, our firm prepared nearly 1,800 trust and estate tax returns. Outside of large firms, most CPA firms do only a handful of trust and estate tax returns each year. Experience is vital because errors can last for generations.  
We also prepare approximately 1,200 personal tax returns for individuals ranging from children to retirees, with simple to highly complex income generating assets.  We assist with planning throughout the year, answer your questions timely, and provide efficient, cost effective services at tax time.
Tax Preparation

Our goal is to make that task as easy as possible for you.  We will prepare accurate returns from the information you provide, and then handle any communications from the IRS or state(s) as required.
Specific Tax Returns Required
1040 – Due every year from all American citizens with income.  Additionally, when someone passes away, the estate must file a final individual income tax return for the decedent. This return reports the income earned from January 1st until the date of death.
Since death and taxes are truths in life, you'll likely be an executor or personal representative of an estate in your lifetime. It can be an overwhelming task to understand which tax filings are needed and how handling the estate will impact the heirs. OBC will help you understand how the tax law applies to your situation and give you peace of mind.
1041 – Upon the death of a taxpayer, many estates may also need to file a tax return that reports the income earned from the date of death to the date assets are distributed to the heirs. Elections may need to be made and consideration given as to timing of filing.  These issues impact whether the trust pays tax or if the liability falls on the beneficiaries, and these decisions can have significant financial implications.
706 - Large estates are required to file a tax return that lists all the assets of the estate. These assets include bank accounts, stocks, real estate, IRAs, pensions, annuities and the like.
We evaluate your unique situation to determine which filings are needed and accurately prepare the returns.
Teamwork

All taxes, but especially trusts and estates, involve complex issues and it is best to work with experts.  Taxpayers, trustees, executors, beneficiaries, attorneys and investment advisors work with us for individual and fiduciary income tax and estate tax planning and preparation.
1920s - OBC's predecessor firm, McDonald, Napshin & Shedd, was founded in Kansas City, Kansas.
1977 – William (Bill) O'Flynn started at the McDonald, Napshin & Shedd.
1984 – Marshall Napshin, Bill O'Flynn & Cathy Edwards formed Napshin, O'Flynn & Edwards and moved to Prairie Village.
1986 – Cathy Edwards left and the firm became Napshin & O'Flynn Chartered.  LaDonna Benne, former employee of McDonald, Napshin & Shedd joined the firm.
1990 – Michele Warnecke joined Napshin & O'Flynn Chartered.
1998 – Meridith Bihuniak joined Napshin & O'Flynn Chartered.
2000 – Marshall Napshin passed away and a buy-in was initiated by Meridith Bihuniak.
2006 – With Meridith a full partner, the firm name changed to O'Flynn & Bihuniak Chartered (OBC).
2010 – Joli Wimer joined OBC.
2015 – Bill O'Flynn retired.
2017 – OBC moved from Prairie Village to it's own office in Overland Park.
2018 – Lisa Johnson, Cyndi Howe and Abacus joined OBC.  We are complete!
Meridith Bihuniak, Owner, CPA, CTFA -

Meridith was born in Shawnee Mission, Kansas and lived in Iowa, Missouri and Connecticut before attending college. She graduated Summa Cum Laude from The University of Kansas with a degree in Accounting and Business Administration in 1991. Her Masters degree in Accounting was received in 1995 from The University of Missouri, Kansas City.

In 1998, Meridith merged her firm with Napshin & O'Flynn Chartered and became a full partner in 2006. She later acquired full ownership after Bill O'Flynn retired in June, 2015. In 2020, Meridith became a Certified Trust Financial Advisor.

Meridith lives in Prairie Village with her husband, Chris, and her youngest son.  She enjoys exercising, traveling, visiting her three older sons (and daughter in law) and attending their soccer games and sharing family holidays. Her favorite ice cream is mocha chocolate chip.

---

LaDonna Benne, CPA -

LaDonna was born in Maryville, MO and grew up in Kansas City, MO, north of the river. She graduated with a Bachelor of Science in Accounting from the University of Missouri, Kansas City.

After graduation, LaDonna started working at McDonald, Napshin & Shedd, a predecessor firm to O'Flynn & Bihuniak. She has gone from the youngest tax preparer to the wisest.  She specializes in complicated trust returns, family limited partnerships, private foundations and working with families that have been clients for generations.

A wooded property south of Platte City is where LaDonna lives with her husband. She is the mother of three and enjoys being a grandmother, reading, movies and helping her daughter's high school theater productions. Her favorite ice cream is cookie dough.

---

Michele Warnecke, Accountant -

Michele was born in Wichita, KS but grew up in Camdenton, MO. After one year in Jefferson City and graduating a Jay, she moved to Columbia, MO and earned her Bachelor of Science in Accountancy from Mizzou.

After graduation, Michele returned to Wichita and worked for a CPA firm that specialized in Farmers Coop audits and taxation. She joined our firm in 1990 with a focus on income tax and financial statement preparation for individuals and small businesses.  She has relationships with generation-old clients and clients new to OBC, all of whom she treats with equal respect and attention.

Michele lives in Lee's Summit, MO with her husband and two of her three children. She has one grandchild and enjoys spending time with family. Her favorite ice cream is butter pecan.

---

Joli Wimer, Office Manager -

Joli was born in Topeka, KS and has lived in New Mexico, Texas and England where her husband, Doug, was stationed in the Air Force. After graduating from Shawnee Mission West high school, Joli attended Pittsburg State University and New Mexico State University.

Joli started with the firm 2010, and brings a multitude of skills and experiences. From marketing to advertising and staff management to general accounting, Joli has proven to be a great asset.

Joli lives in Overland Park and her passions are family, friends, animals and going to the lake or beach. Joli also enjoys reading and all genres of music. Her favorite ice cream is pistachio almond.

---

Lisa Johnson, CPA -

Lisa was born and raised in Orlando, FL. She attended the University of Florida where she obtained her Bachelor of Science in Accounting and Master of Accounting in 1996.

After graduation, Lisa moved to Jacksonville, FL and began her career at a "Big 4" accounting firm, specializing in tax, internal audit, and finance. Her career later brought her to the Midwest after she married her husband, Rex, a native of Kansas.

Lisa and her husband live in Shawnee and have four kids. Lisa enjoys warm weather, gardening and tending to their large koi pond. Her favorite destination is still a sunny beach in Florida. Her favorite ice cream is cookies and cream.

---

Cyndi Howe, Administration Support -

Cyndi was born and raised in Topeka, KS. She graduated from Washburn University with an Associate's Degree as a paralegal, then from Kansas State University with a BS in Psychology in 1990.

Cyndi lives in Shawnee and enjoys spending time with her four adult children and supporting their interests. She also enjoys crocheting, reading and her pets. Her favorite ice cream is chocolate pecan.
---
Abacus Sterling

Our wonderful office cat joined the firm in 2018. After a stormy night, this Turkish Angora was found alone in a cold field, wet and scared. His situation was posted on social media and the OBC staff dashed to pick up this little fluff ball.

With no formal education, Abacus will not be preparing your tax returns, but will accept petting. His favorite ice cream is catnip.
---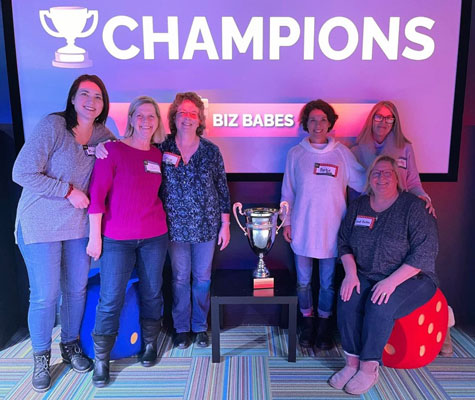 Veterans Community Service
Success at Breakout KC!
---
Website managed by 4 Boys, Inc.